Het prototype lieten ze al zien in 2008, maar volgende maand komt er dan echt een beschikbaar: een 8K projector van JVC.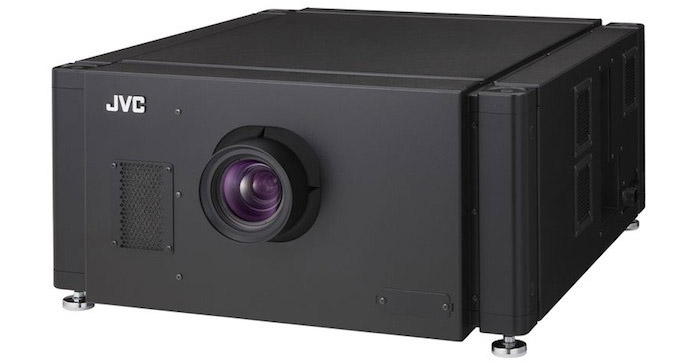 Met de DLA-VS4800 wordt met behulp van de zogenaamde e-Shift technologie van 4K video een 8K beeld geprojecteerd – al zijn hier minder pixels voor nodig. De prijs is wel Ultra-ultra-HD.
e-Shift
JVC's e-Shift is een bijzonder – maar ook eigenaardig principe. Het wordt gebruikt om beelden te creëren met een 4-voudige resolutie van het origineel: 2K naar 4K, of in het geval van deze projector 4K naar 8K. Het proces verdubbelt niet eenvoudigweg het aantal pixels, maar evalueert ieder videoframe gebruikmakend van een correlatie algoritme, en maakt dan een nieuw frame.
Met een frequentie van 120Hz worden afwisselend het 'originele' en 'berekende' beeld geprojecteerd, waarbij deze laatste net een halve pixel diagonaal verschoven is. Deze halve-pixel verschuiving is puur optisch; er zijn geen bewegende delen voor nodig.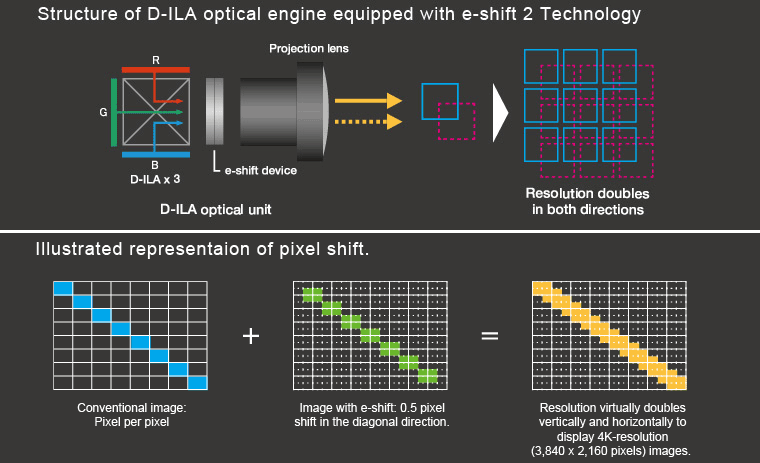 Het is dus geen echte 8K projectie, maar wel de hoogste resolutie die je op het moment daadwerkelijk kunt kopen. Sharp laat dan wel geruime tijd een prachtig 8K scherm zien op internationale beurzen, maar dat model is niet te koop.
Te koop?
Nu kun je je af vragen of de JVC DLA-VS4800 wel 'te koop' is. Alleen in Japan verkrijgbaar, voor een prijs van 190.000 euro – en dat is nog zonder de vier beschikbare lenzen, waar nog geen prijskaartje aan vast hangt.