Naast de P5 hoofdtelefoon is vandaag nog een nieuw product aangekondigd door B&W – computer-luidsprekers, of zoals ze zelf noemen: desktop luidsprekers.

De term is meestal voorbehouden aan twijfelachtige low-end speakertjes. Om alle twijfel weg te nemen omschrijft Bowers & Wilkins de MM-1 als "een serieuze hifi luidspreker" – en heeft deze ook nog eens voorzien van een goede hoofdtelefoon aansluiting.
De MM-1 is een kleine maar full-range actieve 'near field' monitor luidspreker in een tweeweg configuratie. Door het gebruik van een 'Dynamic EQ' hebben deze kleine luidsprekers geen behoefte aan een losse subwoofer. De tweeter heeft een echte aluminium dome voor een kwalitatieve hoog-weergave.

Direct verbonden met PC of Mac
De Bowers & Wilkins MM-1 is meer dan een luidspreker; het is een combinatie van versterker, luidsprekers èn externe geluidskaart. Door de aansluiting met een USB kabel heb je niets te maken met geluidskaart van je PC of Mac, maar stuur je de muziek digitaal je computer uit, waarna de MM-1 deze omzet naar analoog, versterkt en weergeeft.
Hoofdtelefoon aansluiting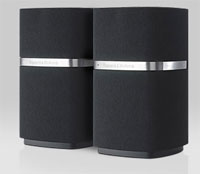 Eén van de belangrijkste slimmigheden van de MM-1 is een hoofdtelefoon-aansluiting. Aangeloten op de MM-1 in plaats van de standaard geluidskaart heb je profijt van de veel betere geluidsverwerking.
Een kleine afstandsbediening wordt ook meegeleverd. Deze regelt niet alleen het volume, maar kan ook gebruikt worden om iTunes of Windows Media Player mee te bedienen.
Meer informatie over deze gloednieuwe ontwikkeling bij Bower & Wilkins kun je vinden op hun website, hoewel de specificaties op het moment van schrijven nog missen. Ook voor de MM-1 moet je wachten tot na de kerst; de prijs is nog niet bekend.