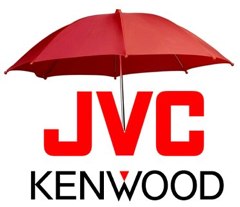 Engadget weet te melden dat in deze tijd van dalende prijzen en krimpende marges voor fabrikanten twee bekende merken samen verder gaan onder één paraplu. Kenwood en Victor Co. of Japan (JVC) fuseren naar een enkele holding, creatief genaamd JVC Kenwood Holdings.
De eigen verwachtingen zijn behoorlijk hoog, want binnen drie jaar wil het nieuwe bedrijf de winst verviervoudigen. Dit gaan ze onder andere doen door de aandacht te vestigen op auto- en homeaudio.
Als je de branche een beetje kent, dan weet je dat dit soort samenwerkingen niet uniek zijn. Bain Capital – de eigenaar van Kenwood – is ook nog steeds in de race om Denon/Marantz te kopen, en het is ook niet zo heel lang geleden dat de Harman groep bijna verkocht werd. Zo zijn er veel Koreaanse, Chinese en Japanse bedrijven die fuseren, samenwerken of overgenomen worden.
Wat JVC Kenwood exact op de markt gaat brengen, en met welk merkplaatje, is nog niet bekend. Er is al wel een gezamenlijke visie: "Katayaburi wo katachi ni" oftewel "Realiseer het onconventionele". De gedachte achter deze visie is dat de expertises van beide bedrijven tot nieuwe onconventionele nieuwe producten en markten zal leiden.
Met dank aan Engadget – met name voor het paraplu-plaatje.