Vaak ondergeschoven kindje, soms zwaar overgewaardeerd: de kabels tussen je audio-video apparatuur. Afgeschrikt door exemplaren van honderden euro's wagen de meeste mensen zich niet aan een zoektocht naar betere kabels.

RU Connected is een nieuw merk dat claimt HDMI en andere av-kabels te leveren van "topkwaliteit zonder high-end prijzen". Maken ze dit waar – en zo ja: hoe dan?[showad_large]
Algemene indruk
Het product-gamma van RU Connected is overzichtelijk: een HDMI 1.4a kabel, twee digitale interlinks – een optische en een coaxiale -, en een analoge stereo interlink. Afzonderlijke namen of typenummers hebben ze niet meegekregen.
Wat opvalt bij alle typen is de verzorgde afwerking. Dat is ook de meest gehoorde opmerking: stevige kabels die er goed en prijzig uitzien. De connectoren zijn van metaal, en de kabels zelf zijn redelijk soepel, en sluiten goed aan op de connector. Enige (kleine) minpuntje is de kleurcodering van de ronde connectoren is een los elastiekje, die vrij gemakkelijk loslaat.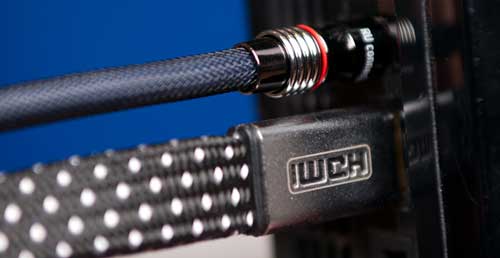 HDMI kabel
De HDMI kabel is HDMI 1.4a compatible kabel met een lengte van 1 meter. Specifiek wordt vermeld dat deze HDMI 1.4 ondersteund inclusief het Ethernet kanaal, Audio Return Channel, 4K, 3D en HD audio.
De connector zelf is volledig van metaal, en voelt niet alleen stevig aan, maar blijft ook stevig zitten in je TV, surround-set, receiver of welk HDMI apparaat dan ook. De verbindingen zijn verguld, wat met name de kwaliteit op de lange termijn moet waarborgen door corrosie tegen te gaan.
De kabel tussen de connectoren is plat, wat als voordeel heeft dat deze niet snel in de knoop zal raken, hoewel dat bij zo'n korte lengte toch al niet snel zal gebeuren. Persoonlijk vindt ik platte kabels er ook net wat chiquer  uitzien ten opzichte van ronde varianten.
De prijs voor 1 meter RU Connected HDMI kabel is 22,95 euro – een bijzonder aantrekkelijke prijs voor deze mooie kabel.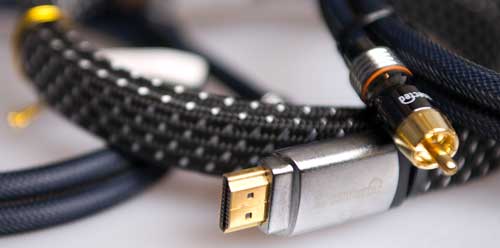 Analoge interlinks – tulp
De 'standaard' stereo interlink met tulp-pluggen aan beide zijden, die je gebruikt voor het aansluiten van cd-spelers, tuners, maar soms ook voor surround-weergave (bijvoorbeeld tussen een blu-ray speler en niet-hdmi av-receiver).
Nog sterker dan bij de HDMI kabel ziet deze er uit als een kwalitatief hoogstaande kabel. Dat komt door de vergulde stekker, de metalen connector, en de kunststof mantel rondom de kabel. Ook als je behoorlijk hard trekt aan de connector en de kabel blijft alles goed op zijn plaats zitten; dat heeft ongetwijfeld te maken met het feit dat de verbinding in kunststof gegoten is. De stekker is ook ergonomisch: de connector is zodanig gevormd zodat je redelijk wat kracht kunt zetten om deze aan te sluiten, of juist af te koppelen. Eenmaal aangesloten is de verbinding stevig: deze klemt echt vast.
Voor een stereo-paar analoge interlinks van 1 meter vraagt het merk 24,95 euro.
Coaxiale digitale S/PDIF kabel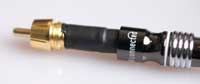 De digitale audio-kabel ziet er identiek uit aan een enkele variant van de analoge interlink. Het enige zichtbare verschil is dan ook de ring op de connector: oranje in plaats van wit of rood.
En de eigenschappen zijn dan ook identiek: een fijne kabel die gemakkelijk in het gebruik is, met een stevige constructie dat tegen een stootje bestand is. De prijs is 13,95 euro.
Optische digitale Toslink kabel
Ook de optische audiokabel heeft veel weg van de analoge en digitale interlinks, maar schijn bedriegt. Het is namelijk net alsof deze connector ook verguld is, maar dit is schijn omdat het goudkleurig kunststof is. De kabel laat zich gemakkelijk verbinden, maar heeft wel een prettige weerstand zodat deze er niet al te snel uitvalt dan wel per ongeluk uit wordt getrokken.
De metalen huls is wel identiek aan de overige interlinks. Het prijskaartje van deze toslink kabel is 12,95 euro.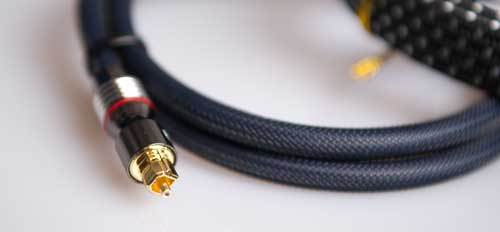 Prijs-kwaliteitsverhouding
Met bovengenoemde prijzen in combinatie met geboden kwaliteit vallen op. De reden voor deze lager-dan-verwachte prijzen zit in een aantal aspecten: RU Connected verkoopt alleen online, zonder tussenlagen met winkels en/of importeurs. Bovendien gaat er vrijwel geen geld verloren in de verpakking: dit is niet meer dan een plastic zak in plaats van een blister. En daardoor is de verzending ook weer goedkoper.
Conclusie
Er kan niet anders geconcludeerd worden dan dat RU Connected een set kabels aanbiedt die van hoge kwaliteit zijn, waar de prijzen niet direct mee in overeenstemming zijn: die zijn laag.
Wat mij betreft zijn deze kabels een aanrader. De verschillen tussen kabels zijn niet direct meet-, hoor- of zichtbaar, maar belangrijker is het dat de verbinding tussen je (dure) apparatuur betrouwbaar is. Door de opbouw en het praktische gebruik geven deze kabels daar heel veel vertrouwen in. Bovendien zien ze er erg goed uit – iets wat ook niet onbelangrijk is.
RU Connected kabels zijn alleen online te koop.
Een set RU Connected kabels winnen?
Binnenkort (zeer binnenkort!) verloten we een aantal sets van deze mooie RU Connected kabels. Hou AVblog hiervoor in de gaten – en als je ons volgt op Twitter dan mis je deze actie zeker niet!