Het is drie jaar geleden dat B&W de Zeppelin introduceerde: één van de eerste iPod/iPhone luidsprekersystemen dat een bijzonder ontwerp combineerde met een hoge geluidskwaliteit.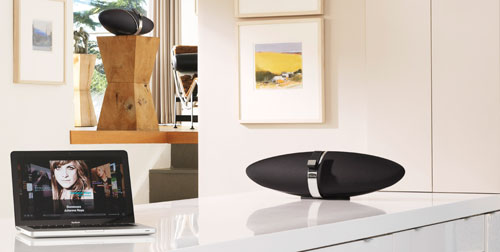 Met de net geïntroduceerde  Zeppelin Air is het niet meer nodig om de iPhone te koppelen; via AirPlay kunnen PC's, Mac's, iPhones, iPods èn iPads direct muziek streamen naar de luidspreker. Met meerdere B&W Zeppelin Air's kun je zelfs je huis van multiroom-audio voorzien.
Zeppelin Air
Volgens Bowers en Wilkins is de Zeppelin Air niet "alleen" maar de bekende Zeppelin met AirPlay, maar is deze 'dramatisch' gewijzigd ten opzicht van voorgaande Zeppelins. Het is een actief 2.1 muzieksysteem, wat betekent dat alle vijf luidsprekers (2x mid, 2x hoog, 1x sub) van een eigen versterker zijn voorzien. Met 4x 25 watt + 1x 50 watt moet de Zeppelin Air je huiskamer kunnen vullen  met muziek.
Technisch gezien heeft de Zeppelin de Bowers & Wilkins Flowport™ technologie aan boord, en een geavanceerde DSP in de vorm van een Dynamische EQ. Deze werken samen voor – onder andere – een sterk verbeterde laagweergave. De digitaal/analoog omzetters zijn ook ge-upgrade, en zijn nu in staat om audio-bestanden af te spelen met een resolutie tot 24bit/96kHz.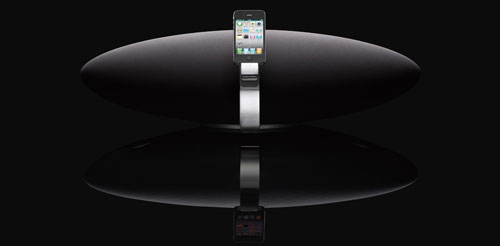 Om iTunes te laten samenwerken met de Zeppelin Air moet je minimaal iTunes versie 10.0 hebben geïnstalleerd; streamen van een iPhone, iPad of iPod Touch vereist iOS 4.2 of hoger.
De B&W Zeppelin Air komt in maart op de markt voor €599,99.